The metal shop at HSBNE is a dedicated space within the facility that provides members with access to a wide range of tools and equipment for working with metal. It is equipped with welding machines, cutting tools, grinders, sanders, bending and forming equipment, and a variety of hand tools specifically designed for metalworking tasks. Members can utilize the metal shop to carry out metal fabrication projects, welding, cutting, shaping, and finishing, while also benefiting from the community and collaborative environment of HSBNE.
---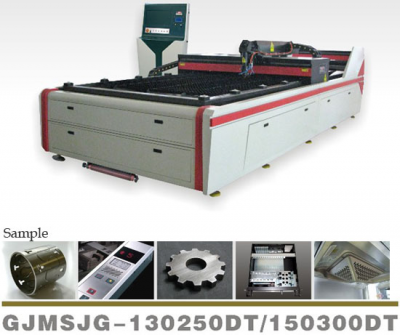 YAG Metal Laser Cutter
A YAG laser cutter is a high-power machine that uses a YAG laser to precisely cut steel and aluminium. Can cut up to 6 mm steel plate with minimal heat-affected zones.
---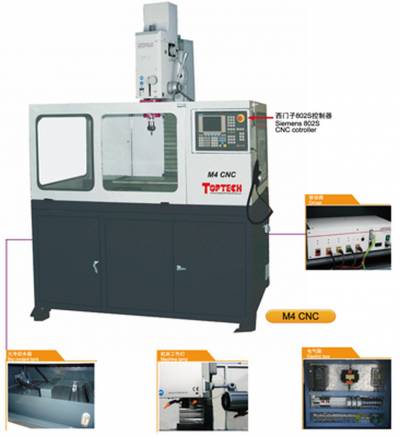 CNC Mill
A CNC mill is a computer-controlled machine used to shape and machine materials with precision, allowing for efficient and accurate production of complex parts.
---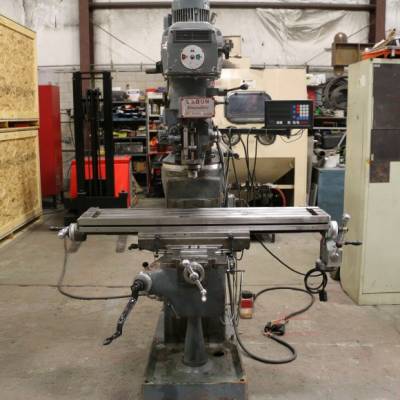 3 Axis Mill
A 3-axis mill is a CNC milling machine capable of moving the cutting tool in three directions (X, Y, and Z) to shape and machine materials with precision.
---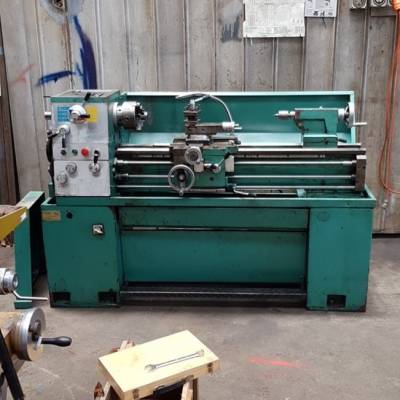 Metal Lathe
A metal lathe is a machine tool used to shape and machine metal workpieces by rotating them while a cutting tool removes material, enabling precise and versatile metalworking operations.
---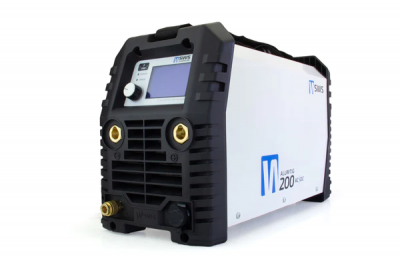 TIG Welder
A TIG welder is a welding machine that uses a non-consumable tungsten electrode and an inert gas shield to create precise and clean welds, making it ideal for welding thin and delicate materials with excellent control and aesthetics.
---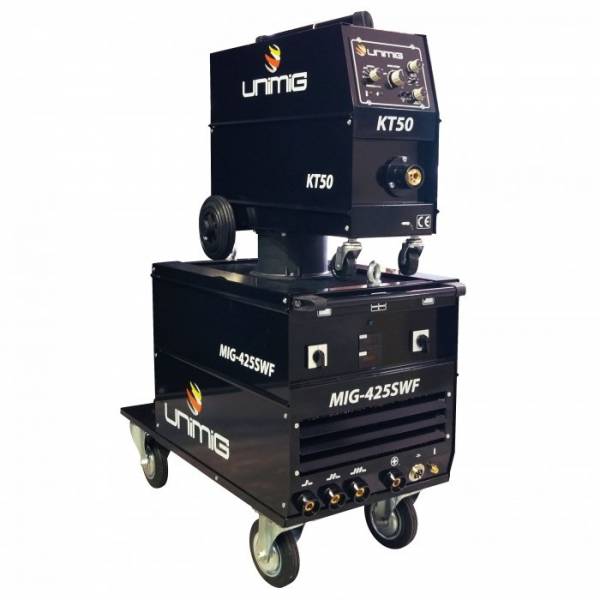 MIG Welder
A MIG (Metal Inert Gas) welder is a welding machine that uses a continuously fed wire electrode and a shielding gas to join metal pieces together. It is known for its ease of use, high welding speed, and versatility, making it suitable for a wide range of applications in industries such as automotive, construction, and fabrication.
---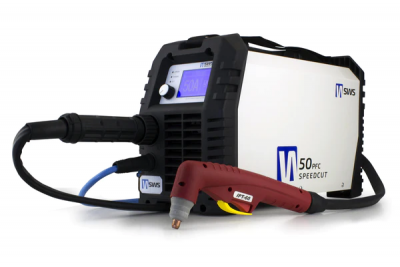 Plasma Cutter
A plasma cutter is a tool that uses a focused jet of superheated plasma to cut through electrically conductive materials such as steel, aluminum, and copper. It provides a precise and efficient cutting method, allowing for fast and accurate cuts with minimal heat-affected zones. Plasma cutters are commonly used in metal fabrication, automotive, and construction industries for cutting and shaping metal materials.
---
---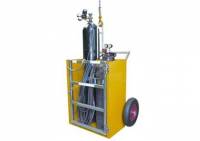 Oxy Acetylene
Oxy-acetylene welding, also known as oxy-fuel welding, is a welding process that uses a combination of oxygen and acetylene gases to create a high-temperature flame. The flame is used to melt the base metals, while a filler rod is added to create a weld joint. Oxy-acetylene welding is versatile and can be used for various materials and thicknesses, making it suitable for both industrial and artistic applications. It offers portability and is commonly used in situations where electricity is not readily available or practical.
---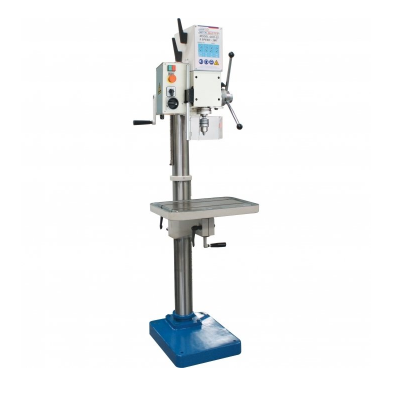 Drill Press
A drill press is a stationary machine tool used for drilling precise holes in various materials. It offers accuracy, power, and adjustable speed settings, making it a versatile tool for woodworking, metalworking, and other industries.
---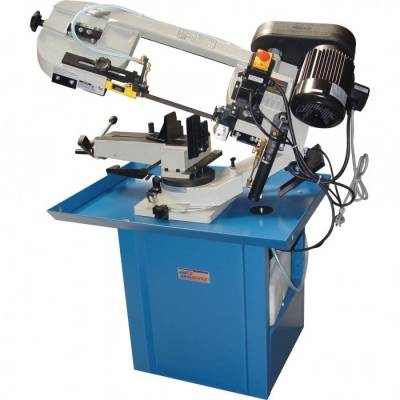 Horizontal Bandsaw
A horizontal bandsaw is a power tool used for cutting materials in a horizontal plane. It offers precision, versatility, and the ability to cut various materials with efficiency and accuracy.
---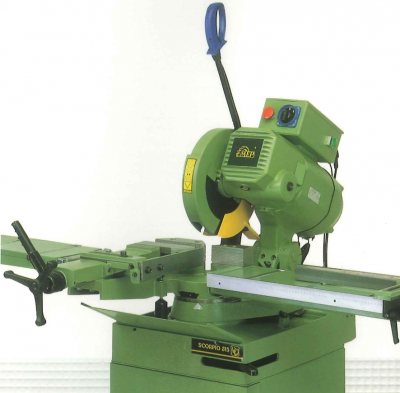 Cold Cut Saw
A cold cut saw is a power tool used for fast and precise cutting of metal materials without generating excessive heat. It is commonly used in metalworking for clean and accurate cuts in various metal thicknesses.
---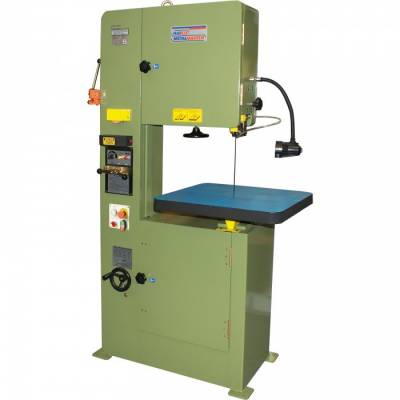 Vertical Bandsaw
A vertical bandsaw is a power tool used for cutting materials in a vertical direction. It consists of a rotating blade with teeth that moves up and down, allowing for precise and controlled cuts. Vertical bandsaws are commonly used in woodworking, metalworking, and other industries for making straight and curved cuts in various materials. They offer versatility, accuracy, and the ability to cut intricate shapes with ease.
---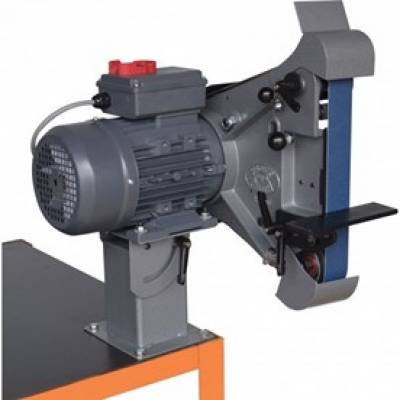 Linisher
A linisher, also known as a belt sander or grinder, is a power tool used for sanding, grinding, and shaping materials, commonly used in metalworking and woodworking industries for smoothing surfaces, removing sharp edges, and shaping workpieces.
---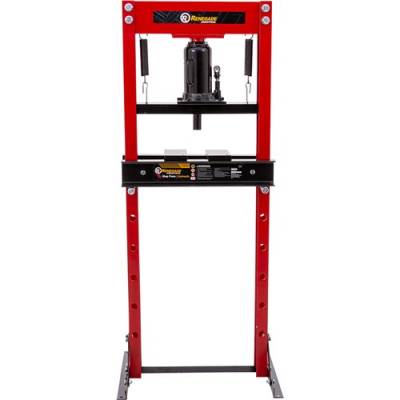 Hydraulic Press
A hydraulic press is a machine that uses hydraulic force to exert pressure on a workpiece, commonly used in various industries for bending, forming, stamping, and pressing operations with controlled and consistent pressure.
---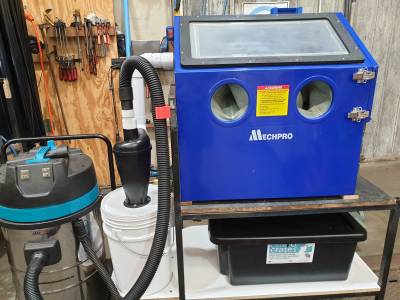 Sand Blaster
A sandblaster is a tool that uses compressed air to propel abrasive particles onto a surface for cleaning, finishing, or surface preparation.
---